Pure Physio Blog
From Zero to Bruce Lee – All About Core Strength
Published on
23 Dec 2021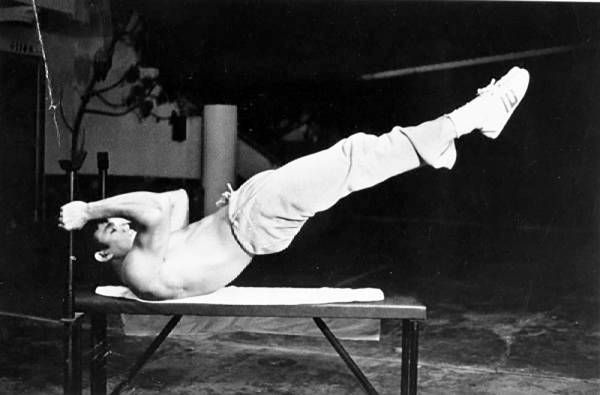 Call us on: (03) 9975 4133
Last month it would have been Bruce Lee's 81st birthday on the 27th November. In memory of his legacy, let's talk about core strength and what could be the pinnacle of core strength exercises, the dragon flag. This exercise was made famous by Bruce who was often referred to as The Dragon which is where the exercise got its name. It is an advanced exercise involving holding onto a bench while lifting your body up straight like a flag.
Before going through the exercise, let's define the core and highlight its role and importance to our health. The major muscles that comprise our core include the rectus abdominis, internal and external obliques, transverse abdominis, pelvic floor, multifidus, erector spinae and diaphragm. There is also minor contribution from our gluteus maximus, latissimus dorsi and trapezius muscles. As you can see there is a lot more involved than just the elusive six pack.
The core muscles work together to provide stability to our pelvis and trunk. This helps to provide us with control during dynamic movements as well as contributing to a person's overall posture (either static or dynamic). There is a growing body of evidence supporting the therapeutic benefits of core strength and that stability training improves lower back pain1. These results may not be all that surprising given the core surrounds the lower back and even includes many back specific muscles to control how it moves. However, the effect of a fit and healthy core can also be seen elsewhere. Sasaki et. al. demonstrated improvement in neuromuscular control of the trunk and lower limb in female basketball players after 8 weeks of core training which may lead to a reduced risk of non-contact ACL injuries2. Benefits can also be seen in stability and balance in stroke patients3 as well as earlier resolution of patella femoral pain when combined with hip strengthening4.
The included studies clearly did not use dragon flags as an intervention. Dragon flags are a flashy move that require high levels of overall body strength as well as core. I do not recommend trying this exercise without proper guidance and the prerequisite strength and ability.
How to do a Dragon flag:
Lay on your back on an exercise bench.

Use your hands to grip the bench or a secure pole near your head.

Roll your body up and extend your legs so your body is pointing straight up. The weight of your body should be placed on your upper back, NOT your neck. This is important for injury prevention!

Tighten your core, glutes, quads, hamstrings and calves to maintain a straight line with your body. (Squeeze everything!)

Maintain a straight body and lower down towards the bench, pulling hard with your hands under the bench to counterbalance. Do not arch your lower back.

Ideally lower down to the level of the bench however you can also hold this position at various degrees in range if you are unable to control the movement the whole way, or, to add more of a challenge holding it for time.

Keep your body straight and pull with your arms to lift your body up again to the starting position.
Beginner versions of the dragon flag involve altering how extended your body and legs are to reduce their leverage. Tucking both knees in, gradually reducing the tuck, keeping one leg straight and holding a straddle position are common progressions towards the full dragon flag. The truly experienced may use ankle weights to increase the difficulty.
There are many, many different exercises that target the core and many that are more accessible. Compound exercises such as squats, deadlifts and pull ups are also great ways to build strength in your core. Here are a few other core specific exercises that can start building your core strength;

Bridges

Dead bugs

Plank

Mountain climbers

Leg and knee raises – supine or hanging

L-sit

Russian twists

Paloff press

Cobra

You don't have to be a superstar to see benefits from building your core strength. Starting from humble beginnings you will start to see improvements. If you want to show off and work to a dragon flag, do it slowly and with experienced supervision to reduce the risk of injury. Happy birthday Bruce Lee and thanks for making one of the hardest and coolest core exercises, The Dragon Flag.
Frizziero, A.; Pellizzon, G.; Vittadini, F.; Bigliardi, D.; Costantino, C. Efficacy of Core Stability in Non-Specific Chronic Low Back Pain. J. Funct. Morphol. Kinesiol. 2021, 6, 37.

https://doi.org/10.3390/jfmk6020037

Sasaki S, Tsuda E, Yamamoto Y, et al. Core-Muscle Training and Neuromuscular Control of the Lower Limb and Trunk. J Athl Train. 2019;54(9):959-969. doi:10.4085/1062-6050-113-17
Karthikbabu S, Ganesan S, Ellajosyula R, Solomon JM, Rakshith KC, Chakrapani M. Core Stability Exercises Yield Multiple Benefits for Patients with Chronic Stroke – Randomized Controlled Trial [published online ahead of print, 2021 May 17]. Am J Phys Med Rehabil. 2021;10.1097/PHM.0000000000001794. doi:10.1097/PHM.0000000000001794
Ferber R, Bolgla L, Earl-Boehm JE, Emery C, Hamstra-Wright K. Strengthening of the hip and core versus knee muscles for the treatment of patellofemoral pain: a multicenter randomized controlled trial. J Athl Train. 2015;50(4):366-377. doi:10.4085/1062-6050-49.3.70
Back to blog home