Pure Physio Blog
Rule changes and injury reports: Welcome to the 2016 AFL season!
Published on
24 Mar 2016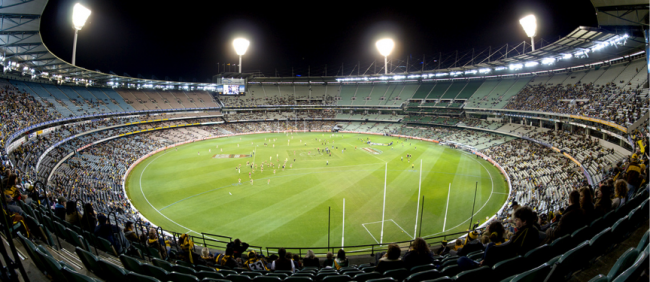 Call us on: (03) 9975 4133
Melbourne, footy season is upon us! Did it ever leave? Australian rules football is like a religion in this great city. All 'Melbournians' seem to have a team and an opinion on the upcoming season for 2016. What has changed over the off season? And more importantly, how's your team looking?
Interestingly, there have been some rule changes over the off season. Notably, the substitute rule has been abolished, and a new cap of 90 rotations per game has been implemented for 2016.
For those not fully up to date with the AFL rules, the substitute rule is where one player starts off the field as the sub. That player can only come on and compete once another player has been permanently subbed out for the game. All other players can rotate on and off the bench freely up to 120 times a game, as per the previous season.
The AFL originally introduced the substitute rule in 2011 to curb the amount of rotations per game, and among other reasons aim to reduce overall injury incidences. As per the 2014 AFL injury report (2015 is not yet available) there has been "Ongoing lower rates of hamstring, quadriceps and groin injuries compared to the last few years of no restrictions on the interchange bench. In 2014 the total incidence and prevalence of injuries in the groin/hip/thigh region were the lowest recorded in the 23 years of the injury survey".
Seems like a positive effect, right?
However, the report also stated "A reduction in the number of calf injuries in 2014 compared to the previous three years, although with the rate still higher than the years prior to introduction of the substitute rule". Further, there was "a higher rate in 2014 than usual of foot stress fractures."
So what do you think the AFL should do? To sub or not to sub? Cap rotations or no cap?
Whatever your opinion is, there is no doubt injuries can substantially hurt your team's chances of success throughout season.
Good luck to all those players returning from injury this season, whether it be at AFL level or local level. All the best to those players who have completed a long hard pre-season and finally get to start playing games. But don't forget to spare a thought for the current players on the sidelines who are not yet back to full fitness as the season begins.
See how your team is currently shaping up injury wise, and bring on the first bounce!
Back to blog home