Pure Physio Blog
Sailing for sport.
Published on
12 Dec 2016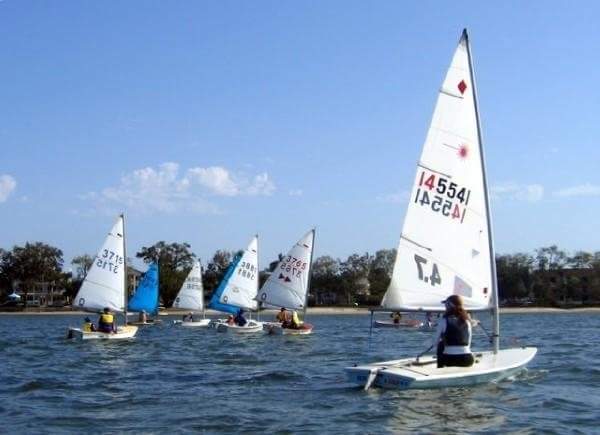 Call us on: (03) 9975 4133
As the Sailing World Cup Final comes to a close in Melbourne for 2016, Kirstie Tyson shares her experiences as an athlete in the competitive sport of Laser sailing.
Getting back on the boat.
Having recently moved to Melbourne from sunny Queensland (insert weather joke here) –  I thought this year would be my year to get back into sailing.
After a six year break I am looking forward to getting back into the swing of things, my passion for Laser sailing invoked by the beautiful abundance of water that makes up Port Phillip Bay.
Laser by design.
Lasers are a one-design class that encapsulates three sub-classes: The Laser, Laser Radial and Laser 4.7. While design varies in each sub-class, the hull is the same in all categories. Distinctions may include the sail area and mast length/rake angle to allow for varying weight categories.
Currently, competitive Laser standard racing is restricted to men worldwide. This is due to a large sail size of 7.2 square meters. Laser Radial is better suited to females and younger athletes with its comparatively smaller sail size of 5.76 square meters.
My sailing experience.
The last national competition that I competed in was the 2007/2008 Australian Laser 4.7 National Championships, held at Blairgowrie Yacht Squadron.
It was a steep learning curve for a young sailor – from the light shifty conditions on the bay one minute, to the gale force winds and torrential rain in the next. I had never been so terrified or experienced such enjoyment all at once.
The typical Australian Laser National championships attracts over 300 athletes from around Australia and the world – particularly in years that lead up to the Olympics.
The race started well, with my training partner posting some fantastic results within the first few days, with myself around the mid-way mark in the fleet. By New Year's Eve, the wind was howling and temperatures onshore were over 40 degrees. The offshore wind-temperature on the bay was closer to 10 degrees.
The weather was an unexpected beast, as one day I recall we were drifting with less than 5 knots of wind, the lighter sailors excelling ahead.
Results changed, in my partner's case for the better – whereas in mine, things took a turn for the worse. The water was cool, the wind biting, but full of memories. Besides the racing itself, my favourite part of the regatta was having a seal climb aboard the boat between races (only in Melbourne right?).
Following a foray into elite level coaching and attempts to get involved in match racing and larger keelboat-racing – sailing took a backseat due to the demands of working and studying as a physiotherapist.
Sailing on the world stage.
This year's Olympic games in Rio set the scene for Australia's sailing prowess. Our Aussie sailing team did us proud, with a total of four medals in the Olympic events. Additionally, every single one of our Paralympian team placed for a medal.
Coming off the back of an extremely successful 2012 London Olympics, it is great to see that the team has built a strong contention for a promising season and lead up to Tokyo 2020.
As the latest season of Australian Sailing comes to a close, fans will reminisce about the exciting events that took place in Melbourne this year.
Melbourne is home to Sail Melbourne which is held at Port Phillip Bay every year, and the Sailing World Cup Final which took place from the 4th to the 11th of December in 2016.
Taking place in St Kilda, the Sailing World Cup Final is the grand event for elite level sailors who hope to prove themselves on a world stage. Their achievements solidify Australia's international ranking as one of the best sailing countries in the world.
As one of the world's most hotly contested sports, sailing can be fierce, competitive and thrilling. I encourage anyone who is interested to head on down and get involved in the glorious culture of the sport and competition.
Congratulations to all the athletes that performed with strength, power and passion as the final unfolded. We're keeping our eyes on you and looking forward to what the new season of sailing will bring to Melbourne in 2017.
Back to blog home