Pure Physio Blog
Tips To Finding Your Best Sports Bra – By Guest Presenter Tish Monahan
Published on
24 Feb 2017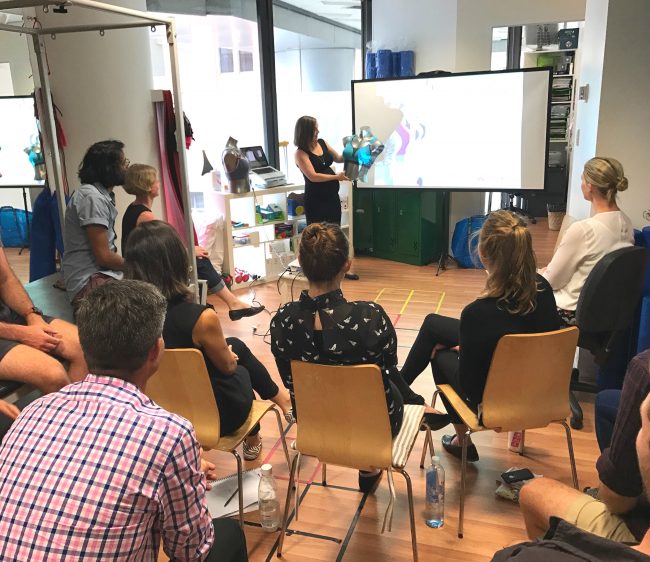 Call us on: (03) 9975 4133
The team at Pure Physio enjoy a monthly Professional Development session and this month we welcomed Tish Monahan, the co-founder and director of She Science, to discuss the science behind fitting the perfect bra.
By Tish Monahan, founder of Speciality Sports Bra Store, She Science
Written for Pure Physio
Tips To Finding Your Best Sports Bra
It's pretty safe to suggest that most ladies in the western world have a lingerie drawer half full of things they have never worn, or never will wear again. Unfortunately, the lingerie industry in Australia has lacked service and quality products –  which has left us all in the position of having to settle for 'near enough will have to be good enough' on more than one occasion.
As a technical Sports Bra is much more about function than fashion, there is no room for error with your fitting or style selection. We've shared our top tips on finding your best Sports Bra, so that your next Sports Bra experience is the best you've had to date.
Get Fitted
If a Bra doesn't fit you, it won't function for you. Bras that don't fit perfectly will lead to increased breast displacement and nasty side effects like chafing and skin irritations. Unfortunately like most industries there is no standardisation of sizing for bras. So while brands will use the same sizing systems (e.g. 10D), they use very different scales, which can have two products with the same size on the tag fitting completely differently. We advise that ladies use the size on the tag as a guide, not a certainty.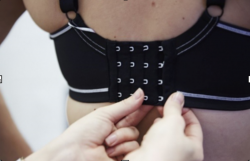 When you go for a professional bra fitting your fitter will ensure you leave in the right fit, setting you up to get the best function and lifespan out of your product.
Understand Where The Support Comes From
The band that runs around your ribcage is responsible for taking most of the weight of the breast, if fitted properly it will ensure that the bust is anchored securely in place. The biggest mistake women make is wearing their ribcage band too loose. This results in the band riding up and down, which will cause the front (your bust) to do the same in a see-saw effect. For example as the back rides up, the front goes down, as the back goes down, the front goes up; this is bounce.
The straps that sit over our shoulders are not there to take the weight of our breast. These should sit firmly enough to stay in place, but if you feel like the straps are yanking at your shoulders then it is a sure bet the band around your ribcage is not firm enough to support your bust.
Contrary to popular belief the role of underwire is not so much to support us as it is to shape us. Underwire helps to separate and round our breast tissue. It does not work to reduce breast displacement during activity. There is no harm having it there, but it's also not entirely required, so the choice is yours.
Look Outside of Your Comfort Zone
As women, we tend to automatically look at options similar to what we have had in the past, despite whether our previous experiences were positive or negative. With so many advancements being made in the industry it's best to at least explore options you may otherwise have avoided; so you can see for yourself if the improvements made work for you. A great example of this is the 'Underwire V Non-underwire' experience. A lot of larger busted ladies have had poor experiences with non-underwire crop tops in the past and automatically classify all non-underwire options to be in that category. When really, some of the brands leading our industry are producing high impact technical Sports Bra product which could represent a range of great options for them.
If you find yourself an experienced fitter with a great range of bras allow them to help you explore as many different options as you can for your size, shape and activity demands.

Test It Out
Our Sports Bra Store is set up with private treadmills in each change room, which we understand is not the usual change room set up, but it does show you how highly I value being able to wear test product before you buy it. If you don't have access to this set up then make sure you have a good dance around the change room to test out how each Sports Bra feels when you move.
Remember to try and emulate the movements you'll being doing when you're active. For most people this would be jumping up and down, jogging on the spot, doing a star jump or practicing a downward dog.
Do The Research on Which Stores Carry Your Size
Bra shopping is a painful experience for most, if you're a 'difficult to find size' there can be a whole host of added issues – which is no wonder that women all over Australia settle for less than best. There are a number of specialty bra retailers that cater for specific size ranges, so get online and search for someone in your area that will have at least three technical Sports Bra options for you to try in your specific size. With most retailers showing their product range online this is now easier than ever, and can save a fair bit of heartache in the change rooms.
Our Sports Bra store in Melbourne caters for cup sizes A – J and band sizes 6 – 24. As a retailer that specialises in just Sports Bras we're able to ensure ladies have lots of options to try in store so that there is something for everyone's size, shape, activity demands and personal style preferences.
By Tish Monahan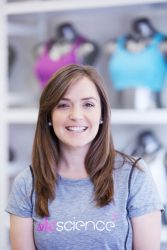 Tish is the co-founder and director of She Science, a Specialty Sports Bra and Sports Wear store in Melbourne. Tish has completed Advanced Bra Fitting training both locally and internationally as well as tertiary education in biomechanics. She follows the latest research on breast biomechanics and Sports Bra design religiously to ensure that She Science remains the most advanced Sports Bra shopping environment in the world. Tish views her Sports Bra business as a vehicle for her to inspire and enable women of all shapes and sizes to participate actively in life. Find Tish online via @SheScience.