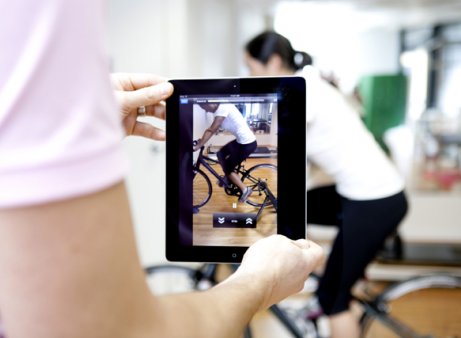 A specific assessment of your posture whilst cycling can provide invaluable information about the cause of your symptoms, and provide explanations for your pain.
What is a cycling assessment?
Specific one hour assessments assist our physiotherapists in helping you improve performance and avoid pain or injury. We use your own bike on a wind trainer to provide more information about the specifics of your set up and posture on the bike. In addition we use ipad video analysis from the front, back and side to check your body position and control while peddling.
Specific localised testing of particular joints or muscles off the bike provides further detailed information about possible limitations that are impacting on your cycling, or contributing to injury. We use cycling assessments as part of an existing treatment plan in the case of cycling specific injuries or goals.
Following your assessment a treatment plan can then be devised to help improve posture, strength and efficiency to get you back to your best in the saddle.
---