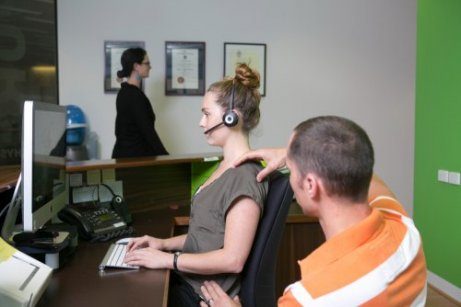 At Pure Physio we place a great deal of value on correct work station ergonomics. We believe that abnormal posture and poor work station setup contributes to injury or pain in a significant proportion of desk based workers. Our physiotherapists are based in the CBD and have significant experience in office ergonomics and treating work related postural presentations.
What is Ergonomics?
A correctly set up work station has an important place in facilitating correct posture. We view posture as a means of describing the correct balance of all muscles to ensure your joints are functioning in their optimal position. This can be difficult to sustain for prolonged periods of time as it requires a great deal of muscle endurance, body awareness and a correct work station setup.
Ergonomics at work
A thorough ergonomic work station assessment, alterations and recommendations about your work station and your posture will help alleviate pain or symptoms in a number of conditions, and may assist in long term injury prevention We offer both short assessments with a brief summary of our findings and suggestions through to a detailed assessment with very specific recommendations, images and a full report of required alterations. This can be conducted as an independent assessment, or in many cases is done as an adjunct to your physiotherapy treatment.
---