Pure Physio Blog
A Triathlon? I'll give it a go! Part 3: AND a half-marathon?!
Published on
19 Jan 2018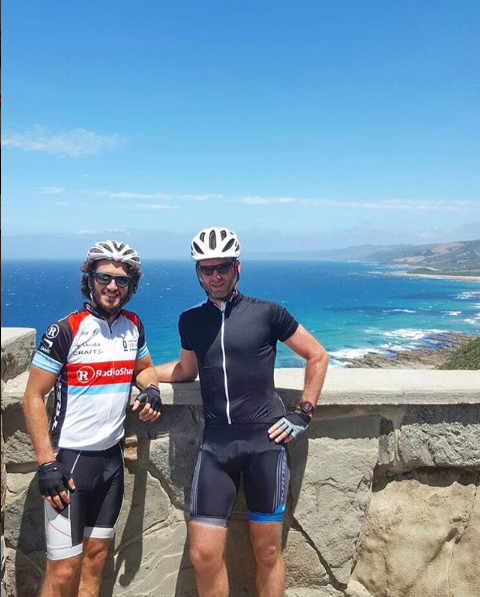 Call us on: (03) 9975 4133
At this point I realise I've spent the last two posts talking about swimming without a single mention of cycling or running. That's because most of our concerns for these legs were toilet based! As you can tell, I'm not a crude person…but other than buying brown shorts and attending evening classes in self catheterisation I felt like there was not much we could do about the matter.
I'd say our greatest concern with the cycling leg of the triathlon was figuring out how on God's green earth we were supposed to have the energy to cycle 90km AND run a half marathon. Anyone that knows me knows that I am a hungry man. In fact, I must say the best thing about this entire experience was being able to eat about 5 meals a day! And I'm not talking any of this 5 small meals a day nonsense, "10 almonds" here, and "a water biscuit" there. I'm talking a full Sunday roast 5 times a day! Absolute HEAVEN! Returning to a normal diet following the half ironman, however, has not been easy. In fact, you can hear all about it in my next blog; "Half Ironman to Half-a-tonne man – from fittest to fattest".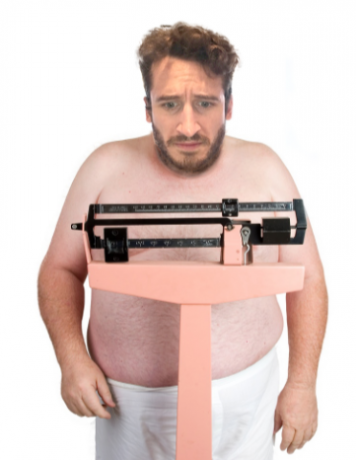 ENERGY+?
Trying to find foods to eat on the bike that didn't also have a severe Earth shattering laxative effect if consumed in vast quantity was not a fun a task. My friend inadvertently purchased a box of 40 gels which were ENERGY+. Prior to embarking on our first 80km ride with these as our sole source of food we DID NOT know that the "+" meant that it had caffeine in it. For me being an experienced coffee drinker/addict, this wasn't too much of a big deal. However, for my poor unassuming friend, who "doesn't drink hot drinks", he managed to complete at least half the ride before almost being knocked off his bike by a charm of Hummingbirds (presumably mistaking his erratic heart rate for a mating call). If you looked into the man's pupils you could see into another solar system. As a recently married man, I don't think he or his wife were ready for the testing times sharing a bathroom would bring over the next couple of days. Needless to say this brought me great amusement and the "ENERGY+" gels were never purchased again!
Bambi on Ice
Running after cycling is a very unusual experience. The closest thing I can compare it to is if you were running with someone else's legs – and in your exhausted state you've foolishly stolen the legs of a person who has recently been issued with a tranquiliser dart to both buttocks. Bambi on ice doesn't even come close. But, this phenomenon is relatively short lived. Much like the feeling that accompanies the jelly legs, on many occasions I've had to put the brakes on in the opening 2kms to make sure I actually make it to kilometre 3 without bonking out.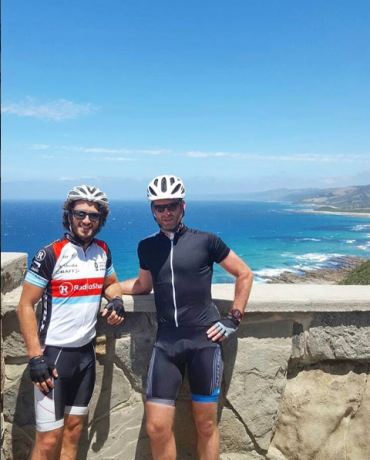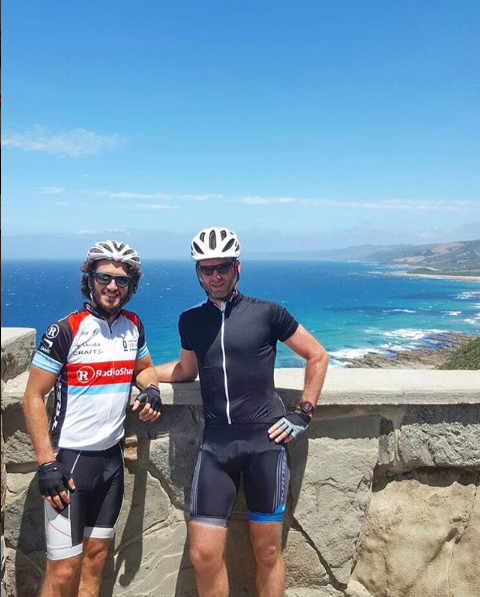 I have always enjoyed running though, mainly because in the 12 years of my life that I have been running, I can safely say that on not a single occasion has a total stranger snuck up behind me, clotheslined me to the floor and tried to suffocate me with a shopping bag, which I feel is a fairly accurate description of the no-holds-barred madness that is open water swimming.  I'd been a half decent cross country runner in my school days and had always used running to keep fit, so in my mind as soon as I made it to the run I would be at my most comfortable. That was until one of my final brick sessions which so happened to take place on a 32 degree day.  
Beach Road Blindness
I'd accidentally put the burners on for the last 20-30km's of my cycle to keep up with some old speedsters on Beach Road and ploughed straight through one of my 'refuelling' time slots. I wasn't overly concerned by this and double dropped at the next station. However, it was about 8km into my 15km run when I suddenly realised that my peripheral vision had started turning quite blurry. Now, being an Englishman and therefore having spent my teenage years binge drinking, I was no stranger to blurred vision. However, usually when this old friend comes a-knocking I'm in the comfort of the local pub surrounded by others in a similar state of mind, not running on my own on a sandy track that seemed to be turning increasingly into the Sahara desert with every step. First came the blur, then came the darkness…
Although the spontaneous blindness was a little disconcerting, my body didn't actually feel too bad. I was tired, but I felt like I could keep going, and so I did! (More as an experiment than anything else). If the darkness were to spread so far that I became fully blind, would I still be able to keep running? Or, would I collapse? And if I were to collapse, how many of my bodily functions would fail?!
Only time would tell. With the Grand Prix weekend approaching, scenarios flooded my heat-stricken mind that this may be perceived as some kind of dirty protest against Formula One were I'd be found unconcious in a shameful state in the middle of Albert Park. I spent the next couple of kilometres trying to come up with a witty headline for such a discovery involving the term 'skid-mark', which proved a sufficient distraction for my vision to start returning. I didn't collapse and as far as I could tell, all my bodily functions were intact. My heart rate monitor, however, made for quite interesting reading. I was technically in cardiac arrest for most of my run, hence the visual disturbance, but if I could get through it once, I could get through it again!
Taper Time!
During this experience, I also discovered what TAPER really stood for: 'Terribly Anxious Psychological Emergency Restlessness.' It wasn't a training principle, it was a mental illness! I used to consider myself a fairly stable person until this taper period began. However, once we entered those final 2 weeks, I started feeling things I had never felt before. The first run of the taper period I experienced what can only be described as SEARING pain in my right foot, having not felt as much as a tickle for the previous 6 months. Where did it come from?! I must have run 50 times and suddenly now 2 weeks before my event my foot had decided to break in half?!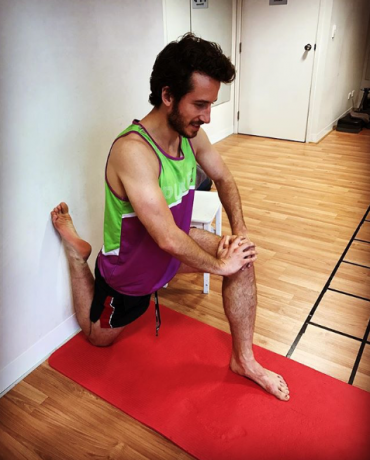 As I rode to work one morning I suddenly felt a lightening bolt strike the inside of the left knee, having felt NOTHING for the previous 30+ weeks. Did I have time to have a total knee replacement and still take part in Challenge Melbourne? What had I done to feel the full wrath of Zeus himself and why take it out on my left knee? I must really have been an intolerable person to be around during this period of time, and to those who had to endure such a time, I apologise wholeheartedly. I must also thank Liz, who I pestered with these mad ramblings in the 2 weeks prior to the event (mainly for not getting the straight jacket out and institutionalising me)!
WIND! ALL THE WIND!
My mental state in the week prior to the race was not helped by my hourly checking of the weather report for the coming week. My pals and I had been bantering with one another about what could be the worst possible conditions for the day, with WIND usually hit the top of the list. No-one wants to cycle 90km feeling like you have a parachute attached to your back! TORRENTIAL RAIN would come a close second.
Rain the night before would mean the already extortionate amount of money spent on this event multiplying infinitely by having to purchase a NASA space suit in order to avoid coming out of the water at St. Kilda beach with a extra limbs. Rain during the event wouldn't be ideal either, particularly during the swim where we'd had little experience of trying to breathe whilst being water-boarded. On the bike, I'd spent most of the summer boasting about the beautifully airconditioned cycling shoes I had that were roughly 90% air vent, keeping my feet a delightful temperature for the last 6 months. If it were to rain these air vents would provide as much protection as a chocolate fire guard. And it hadn't even crossed our minds that it may also be cold! For the entirety of our training the temperature hadn't dropped below the mid 20's.  But, by some magic all our prayers has been thoroughly and unreservedly ignored…14 degrees, pissing rain and 50kph CROSS WINDS. WHAT!!
Stay tuned!
The final chapter of Dave's saga will continue next week…