Pure Physio Blog
When Should You Have Surgery For Shoulder Pain?
Published on
24 Mar 2015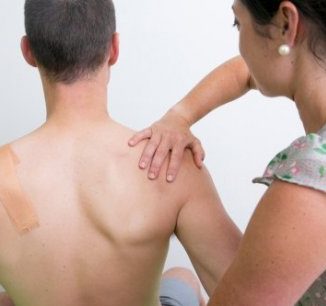 Call us on: (03) 9975 4133
Experiencing shoulder pain? Wondering whether you need surgery? PURE's rehab physiotherapist Cara Peake sheds some light on what you should consider before going under the knife!
Shoulder surgery has certainly made some terrific advancements in the last decade, but does shoulder pain or injury necessarily mean we need to visit the surgeon? Here are some steps to consider before going under the knife!
Determine the nature and extent of the injury
Firstly, we need to consider the nature of the injury – was it caused by a single event or trauma, or did the injury gradually present? An injury caused by a traumatic event such as a fall or tackle can often lead to damage to the ligaments, cartilage or even bone, which might require surgery to repair. Liaising with your physiotherapist in the first instance and obtaining imaging will help establish the extent of the injury and the best treatment plan going forward.
Conversely, an injury with a gradual onset is more indicative of an overuse type of injury caused by excessive load or the under-activity of important muscles. For example, under-activity of your shoulder stabilisers can result in poor shoulder biomechanics and consequently impingement of your rotator cuff muscles. These types of shoulder injuries respond very well to physiotherapy treatment and surgery can often be avoided. Which brings us to the next important point…
Consider conservative treatment
Before embarking down the surgical pathway it is important to investigate the possibility of conservative treatment. Surgery is not always the best option and it comes with risks and possible complications. Your physiotherapist should discuss all conservative options and likely outcomes with you before you consider surgery.
Assess personal risk factors
There are a number of personal factors that could mean surgery is a high-risk option for you. For example, your age. As we age, surgical risks increase and the speed of healing reduces due to the slower rate of cell regeneration. As you age, therefore, the risks of surgery might outweigh the benefits.
Assess the likely benefits
Lifestyle and how you want/need to use your shoulder should also be taken into consideration. For example, the demands of an elite athlete or a carpenter are significantly different to a desk worker.
Surgery may not be indicated for someone who reports no aspirations to conduct a high volume of shoulder load and who will gain appropriate functional use of their shoulder with conservative management.
Consider all costs
Surgery is expensive!! It is important to be aware of the out of pocket costs involved.
Also, don't forget the cost of rehabilitation afterwards and the time off work. Surgery is no quick fix! You must have realistic expectations of recovery time. Shoulder surgeries often result in immobilisation of the arm in a sling for 4-6 weeks. Are you able to take time off work? Do you have support at home? And most importantly, are you ready to commit to a rehabilitation program?
Surgery is only as successful as the effort you put in to restore the muscle strength and limb function.
It is always important to consider all the options before embarking down the surgical pathway! Your physiotherapist is a great place to start and can help direct you in the best line of treatment.
Back to blog home