Pure Physio Blog
The Bells Beach Rip Curl Pro: a swell time over Easter.
Published on
26 Mar 2016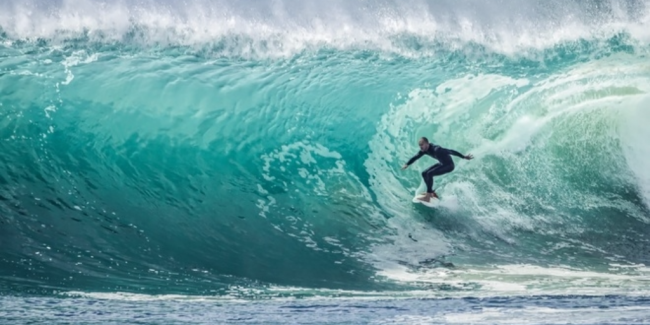 Call us on: (03) 9975 4133
Before I arrived in Australia for the first time, I imagined moving to a sleepy coastal town and living the dream by the ocean. Practising my trade as a physio, I pictured myself up at dawn, catching some beautiful clean waves and signing off after a day's work with some more paddling and world-class surf. However, reality struck as soon as I arrived in Melbourne.
Firstly, I loved city life and having everything on my doorstep. But the decent surf beaches were at least an hour away from the city. What about all those postcards of the blond and bronzed surfers carving it up in just a pair of boardies? To my horror, the water was surprisingly cool in winter, requiring at least a 4ml wet suit to brave the elements. The water was nearly as cold as summer water in Ireland (fresh)! So, despite having spent a full summer working and surfing in Hawaii in the past, I must admit to being really slack with my surfing over here. However, I did attend the Bells Beach Pro last year and it did live up to all of my expectations.
History.
The Bells Beach Rip Curl Pro is the longest-running professional surf contest in the world. This year will be the 55th annual event. Originally taking place in 1962, Rip Curl put up the prize money in 1973, turning the event into Australia's first ever fully professional surfing contest. This year the Pro will run from March 24th through April 5th, and serve as the second stop of the three-stop Australian leg of the 2016 World Surf League (WSL) Tour.
The Venue.
Just 100km South-West of Melbourne on the Victorian coastline, Bells is home to world famous Great Southern Ocean swells. It's A-Grade surf break is surrounded by a natural amphitheatre of red clay cliffs featuring majestic ocean views. The right-hand reef break features two unique reef sections: 'Rincon' (high tide) & 'The Bowl' (low tide).
Injuries.
A number of injury withdrawals have shaken up the competitive draw at the Rip Curl Pro Bells Beach and some new faces and fresh talent will be on show. Local Victorian Joe Van Dijk from Philip Island will compete this year for the first time. Filipe Toledo (BRA) who was in fantastic form when I attended last year, had to pull out with a groin injury suffered last week up in the Gold Coast.
The Bell.
The prize – The Bell – is one of the world's most famous sporting trophies and the honour roll includes greats like Kelly Slater and last year's winner Mick Fanning. In fact, the event will be a farewell of sorts for three-time WSL Champion and four-time Bells Beach winner Mick Fanning, who has stated that he will take some time off after the event. Australians Matt Wilkinson and Tyler Wright wear the yellow jerseys after winning the Gold Coast event last week.
Unofficial Theme Song.
Hells Bells by AC/DC, played every morning before the first heat of the day.
Likely to hear.
"You've got to win it to ring it."
Unlikely to hear.
"Dude, that was a sick 360."
Back to blog home