Pure Physio Blog
Boston Marathon 2018
Published on
21 May 2018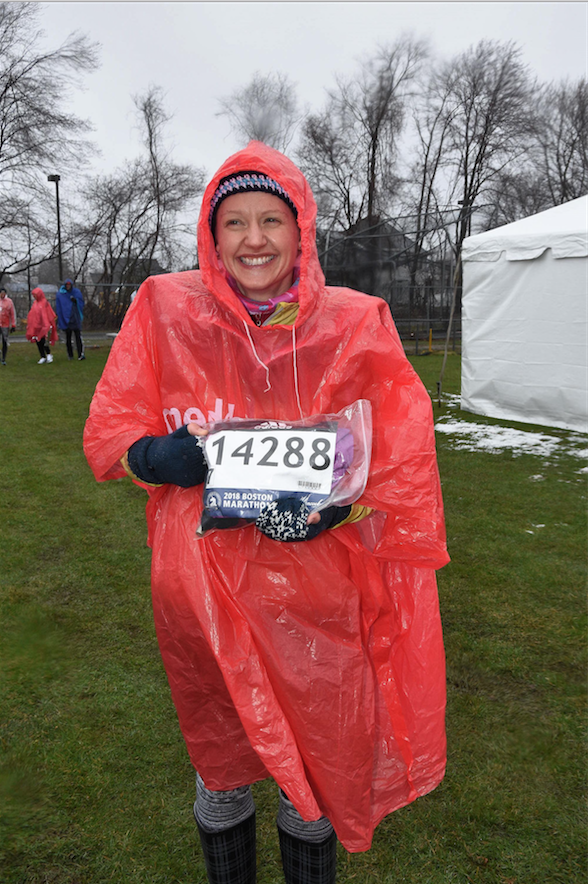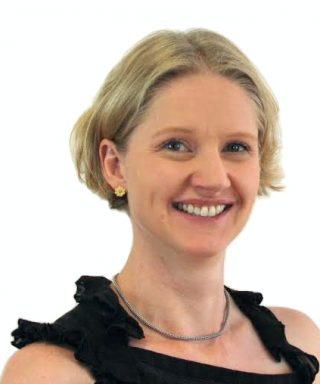 Written by
Liz Edlin
Rehabilitation Physiotherapist
Call us on: (03) 9975 4133
A BQ is a marathon runners Holy Grail. I ran my first marathon in London in 2008. It was an amazing experience to be part of such an iconic event and to see what my body was capable of. Training introduced me to the world of marathon running, it's history, and the sought after BQ.
In 2016 I decided to run the Melbourne marathon. I told everyone that it was a good way to get to know my new home city and see if I could get a marathon PB. In reality, I just wanted a BQ (Boston Qualifying time for those of you unfamiliar with the running world jargon).
Greek legend tells that Pheidippides ran from the battlefield in Marathon to Athens with the news of victory over the Persians in 490BC.  However, Phedippides marathon didn't end well as he died, having delivered his message. This legend inspired the first Olympic marathon in 1896 from Marathon to the Olympic stadium in Athens, a distance of nearly 25miles. The following year the Boston Marathon was born with a starting field of 15. It wasn't until the 1908 London Olympics that the now official marathon distance of 26 miles, 385 yards (42.195 kilometers) was set. This was the distance from Windsor Castle to the finish line in the Olympic stadium at White City, directly in front of the Royal Box.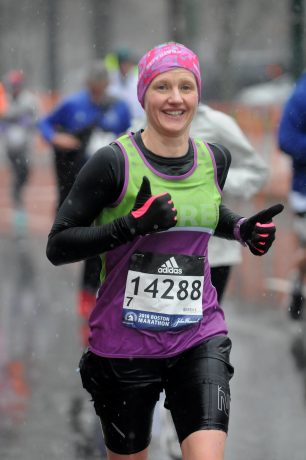 The history of women running the marathon made me even more determined to run the Boston Marathon. I couldn't believe that the first Women's Olympic marathon wasn't until 1984. The first woman to unofficially run the Boston Marathon was Roberta Gibb. She ran without a race bib for 3 years (1966-68), hiding in the bushes before the start of the race. In 1967 Katherine Switzer officially entered the Boston Marathon, but didn't state her gender on the application form. Officials unsuccessfully tried to physically remove Switzer and her bib (number 261) from the course. It wasn't until 1972 that women were permitted entry to the Boston Marathon. In 2017, at the age of 70, Switzer completed the Boston Marathon, wearing bib 261 and running only 20 minutes slower than her 1967 time.
The 122nd Boston Marathon was run on Patriot's Day, Monday 16 April 2018. I was one of the 12,000 women alongside nearly 15,000 men to toe the start line in Hopkinton. I had dreamt of this moment for 10 years and here I was, about to run in the footsteps of legends. The course takes you past the Scream Tunnel at Wellesley College, up and over Heartbreak Hill, past the home of the Boston Red Sox, Fenway Park, past the site of the tragic 2013 Boston Marathon bombings, to the finish line at Boylston Street.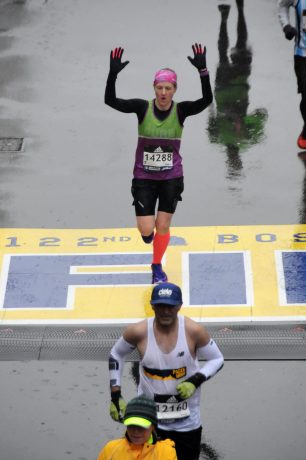 The weather was awful. Cold temperatures, pouring rain and strong winds made for a tough day out for runners, volunteers and spectators. Despite it being the toughest race I have ever run, it was an incredible experience that I will never forget. The camaraderie with the other runners is unlike any other race I have experienced. Everyone is excited to be there, from first timers like me to those who have run it a dozen times a more. While we are out on course, news filters through that an American is leading the Women's race. The atmosphere is incredible as it is 33 years since an American has crossed the finish line first.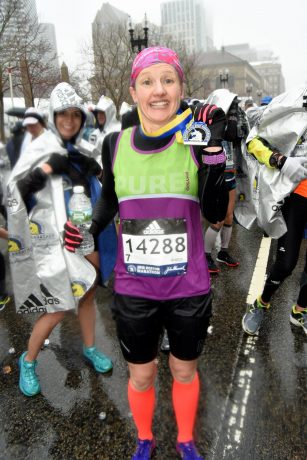 My own race was one of frozen hands struggling to grasp water cups, numb legs that sometimes refused to work, trying to smile and thank the spectators and volunteers, questioning why I am doing this and then planning my next marathon to BQ so I can do it all over again. My day ended more successfully than Pheidippides did, however I feel as though I have unfinished business in Boston. I will never forget the 122nd Boston Marathon and I look forward to being part of another Boston Marathon in the future.
We're here to help.
If you are looking to BQ or even start running, the team at Pure Physio are here to help on your running journey.
Get in touch to book an appointment now.
CONTACT US
About the Author
Liz Edlin — Rehabilitation Physiotherapist
Liz grew up in New Zealand playing a lot of sport and experiencing a few injuries along the way. These experiences motivated her to complete a Bachelor of Physiotherapy from the University of Otago in 2002 and help other people overcome their injuries.