Pure Physio Blog
Week 1: Great Ocean Road Running Festival 2017
Published on
27 Feb 2017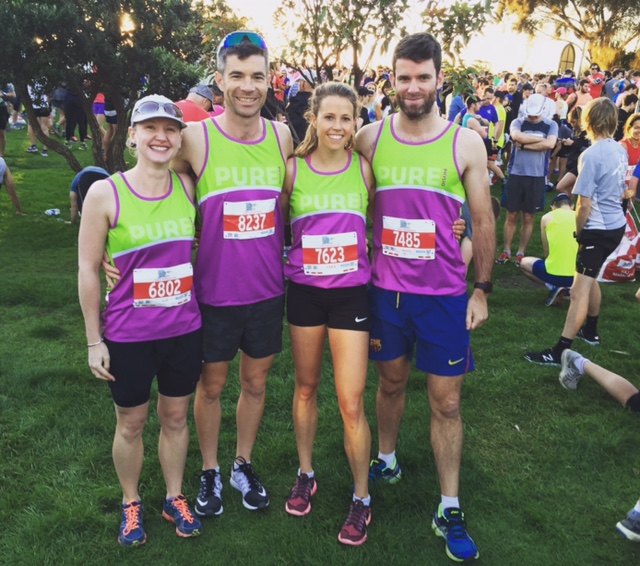 Call us on: (03) 9975 4133
If you're taking part in this year's GOR half marathon – we'll see you there! Follow our training plan to get prepped for the 23km journey.
Team players.
The Pure Physio team had such a great time at the Great Ocean Road event last year – we've decided to head it up again in 2017.
We've got the whole office on board, with even business owner Andrew Sargent joining in to strengthen the team.
Each week we'll be posting our sessions leading up to the big race on Sunday the 21st of May. Today is the magical 12-week milestone to race day – so we thought we better get cracking with some running training!
How far is the race? It's a sneaky 23km half marathon.
How much are we planning to train? Four times a week including: one long run, one easy run and two fartlek/interval/hill sessions.
Get with the vocab.
Fartlek: A Swedish word for 'speed play'.  It is a training style, which involves continuous running at various speeds.
Tempo:  A term which refers to running at a pace designed to challenge your lactate threshold. It is often calculated by running at about 80-90% of your maximum heart rate. Or by adding approximately 30-40secs to your 5km race pace.
Long run: A continuous running effort designed to improve your aerobic capacity and also strengthens your musculoskeletal system.
Let the training begin.
Week One (from the 27th of Feb):
Tuesday – Fartlek/Interval
Warm up 10mins (2km).
4 oval laps (90secs).
3 oval laps (90secs).
2 oval laps (90secs).
1 oval lap (90secs).
Cool Down (2km).
Total of 8km.
Thursday – Fartlek/Interval
Saturday – Hills/Tempo
Warm up 10mins (2km).
3 x 5mins tempo (3mins walk).
Cool Down (2km).
Total of 7km.
Sunday – Long run
Overall distance goal: 29km for Week One.
If you need further support or information on training programs, we are here to help you curate something that works for you. Don't hesitate to get in touch with one of our friendly staff today.
Let us know how your training is going – the Pure Physio team is looking forward to seeing you fit and ready in 12 weeks!
Back to blog home