Pure Physio Blog
Julia Allan: Physio to the Volleyroos
Published on
16 Aug 2017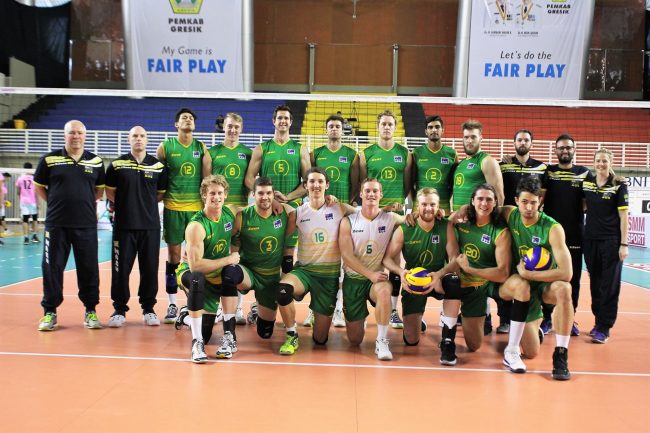 Call us on: (03) 9975 4133
Pure physiotherapist Julia Allan has been back at her sports physio work again recently touring with the Australian Men's Volleyball Team, The Volleyroos! Julia began working with the team in July during their training camp at the Australian Institute of Sport in Canberra and has most recently been on tour with them to Surabuya in Indonesia while they competed in the Asian Volleyball Championships. Here is what Julia Allan has to say about the trip!
Tell us about the tournament:
The Asian Volleyball Championships are held every second year in a different hosting country where all the teams reside in the same hotel accommodation and then compete at a stadium nearby. All teams play within different pools and then eventually play off for finals and an end resulting position.
Although the tournament was an international elite event there was a friendly component to it with an exchange of National Volleyball Association badges before every game and an Asian Championships dinner for all teams and staff to attend mid way through the tournament.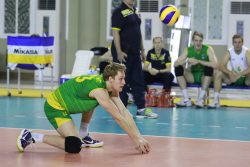 Which countries were at the tournament?
There were a lot including; Japan, Korea, Hong Kong, China, Chinese Tai-Pai, Vietnam, Sri-Lanka, Iran, Kazakhstan, Qatar, Maldives, Thailand and Indonesia.
Who made up the Volleyroo team?
There were 14 players on this tour and the staffing team consisted of the Head Coach (Mark Lebedew who coaches in Poland), Assistant coach/S&C Luke Reynolds (Coaches in Germany), Secondary Assistant Coach (Liam Sketcher – coaches in Switzerland), a Statistician/scout that collected video footage of other teams to help with opponent preparations, Team manager and myself (Physio).
How did Australia go?
Australia didn't go as well as we were hoping to and were coming off the back of World Championships Qualifiers where the team performed well and qualified for the 2018 World Champs. However, this did take a toll on their bodies and after travelling and competing internationally for the past 3 months I think it took its toll. The boys beat Hong Kong, Thailand and China but unfortunately lost to Chinese Tai-Pai and Iran which placed them 7th overall.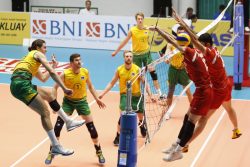 What was Surabuya like?
Surabaya was a very busy city, it is the second largest in Indonesia to Jakarta. It was a constant bustle of traffic, scooters and a lot of people. The stadium was quite far from our accommodation but mostly due to the traffic so it was helpful that the local event organisers had organised a police escort to help get the bus to the stadium in possibly half the time! Unfortunately there was no beach close-by but there was a shopping mall that i found some time to visit on the last day! 🙂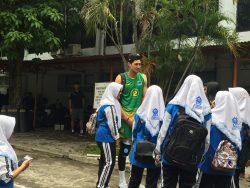 What was it like working with the national team?
Working with the National Volleyball team was a great experience and something I would love to do more of. It was great to work with elite athletes that will listen to your advice and want to do everything possible to keep their bodies working at maximum capacity.
It was also a good experience working at the AIS alongside some of the top Australian Physio's and being able to use state of the art facilities.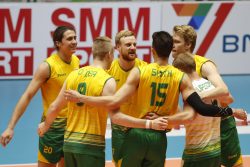 Have you worked in volleyball before?
No, my background is mostly working in netball but also basketball and soccer at the elite levels, so volleyball was very new for me. It was actually quite refreshing to work in a new sport that I didn't know much about as it kept each day interesting and in every game I would learn more as I watched from the bench. I was quite impressed with the athletic ability (particularly the vertical jump of all players) and how much positional strategy and skill there is to the game that I never knew existed.

Most common injury?
Unfortunately due to the high repetition of jumping almost all players had a tendon injury at their knee. Most either had patella tendinopathy or quadriceps tendinopathy also known as "Jumpers Knee".
What surprised you the most?
I was quite surprised that most other teams had full staffing units of males only, and a few of the teams seemed a bit shocked that Australia had a female Physio. I felt totally comfortable with this situation and have certainly worked with male teams before in soccer and basketball but I found it quite hilarious that the Indonesian media wanted to interview me to ask about my experience as the only female staff member working with a team at the tournament!
Back to blog home