Pure Physio Blog
Surviving Pre-Season Part 3: Start Pre-Season at the front of the pack
Published on
07 Nov 2019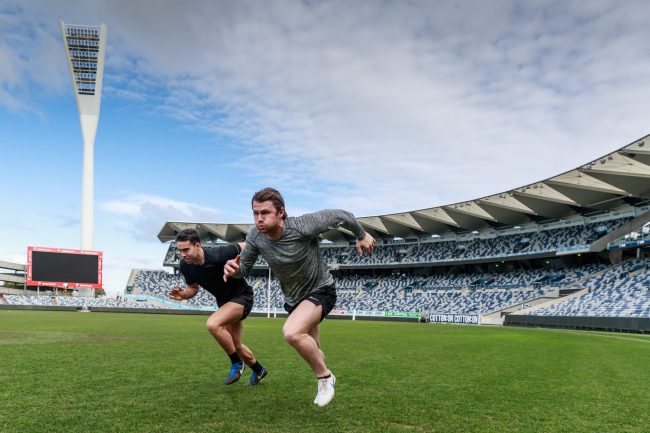 Call us on: (03) 9975 4133
Today marks 6 weeks to go until, I like many others other, start pre season training back down at our local clubs. As I discussed in Part 2 of this multi stage blog, every player is very different in terms of the following; goals, ability, experience, injuries, aspirations, fitness levels and level of competition so we must keep this is mind as we tackle the next 6 weeks. 
Now we have all done it or seen it, rocked up to pre season training a little under prepared after enjoying the footy silly season a little too much. So let's make sure that is not us and get out on the track and enjoy the extra daylight we have after work. But where do we start, running, cycling, weights, boxing? This is all going to depend on your current training levels and injury history. Most players at this time of year are either in one of two groups; haven't trained since the season finished or have started to complete a couple of sessions a week throughout the off season. 
For the group of players that haven't trained since the season finished this is where you should look to start. Start slowly, in the first week completing 1-2 runs and 1 strength session and gradually build from there. You should be aiming to complete the same number of sessions that you are expected to complete by the club eg. if the club completes 3 training sessions during pre season, aim to complete 3 running sessions and 3 weights sessions a week.
For the players who have been training over September, it's now time to increase your base and focus on your goals. Players often ask, why do I need to complete strength sessions to play sport? The simple answer is to prevent injuries and improve performance. The stronger we are the less likely we are to obtain injuries and we are able to move faster and kick or pass further. 
So for the players that have been training, it's now time to introduce some interval running. Team sports require lots of changes of direction and running speeds, so it's important to build this into your program to help you improve. During the last 6 weeks of off season, I will be completing short and long interval runs and one long run. See below an example of what my current running program looks like: 
Short Interval Runs

Long Interval Run 

Steady State Run

Warm Up – 1km & mobility 

2 sets, 8 reps x 65m 

30mins rest between reps

2mins rest between sets 

Warm Up – 1km & mobility 

2 sets, 5 reps x 200m 

1mins rest between reps

3mins rest between sets 

5-7km Run
My weights session will then change to a pure strength training program after a period of completing hypertrophy training. As previously discussed, we need to train a muscle 3 times a week to see strength gains, hence why I go for complete full body weights workouts so that I get it all done in one go!
Over the next 6 weeks, I like to add a power or explosive exercise to my program as well, eg. box jumps, cleans or snatches. Remember power exercises require a baseline level of strength before starting. Currently, my strength program is very simple 5 sets of 5 reps for all exercises, which includes one power exercises and 4 supersets that alternate between lower and upper body. Then finish with a couple of minutes of trunk stability and core exercises. 
Keep in mind, you should never start any training program without the consultation of a healthcare provider. So if you are looking to improve your game in 2020 but are unsure on what type of training, number of sessions or how to prevent injuries, book in and see myself or one of the team at Pure Physio to guide you through a step by step program.