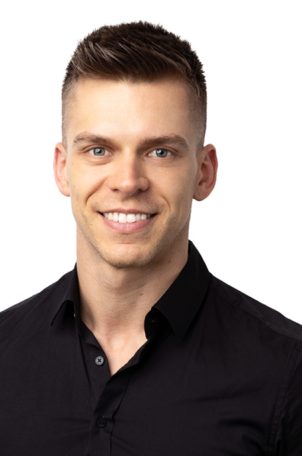 Do you need treatment?
Book with Jacob
Jacob Stefanoff
Senior Physiotherapist
Collins St
Education
Master of Physiotherapy, University of Sydney, 2016.
Bachelor or Exercise and Sport Science, Australian Catholic University, 2014.
Further education has included courses focusing on understanding complex Sport conditions, Dry Needling and Acupuncture, shoulder conditions and optimising biomechanics and rehabilitation in Cyclists. Jacob has also expanded knowledge in the areas of complex Lumbar spine, Pelvic & Hip conditions and complex cervical spine, thoracic spine and rib conditions.
Experience
Jacob has a very caring and empathetic nature and uses a holistic approach to rehabilitation. He is particularly interested in listening to the patients' story right from the very beginning to obtain a great understanding and complexity of the patient's problem. He uses his knowledge in biomechanics of how the body moves together with a detailed initial assessment to identify the source of the patients injury. Jacob has been involved in many sports and gym setting and has a strong exercise focus towards rehabilitation and promotes an active recovery. He is a very skilled manual therapist that uses contract relax techniques and joint manipulation to ease joint stiffness, alleviate pain and promote muscle recovery. He is also skilled in acupuncture and dry needling and uses EMG biofeedback as a means of muscle activation to enable the patient to correctly activate muscles.
Jacob has worked in multiple private practice settings in Sydney along side Olympic Sports Specialist Physiotherapists gaining experience with Olympics Athletes, Cyclist, Triathletes and professional athletes in their sporting fields. Jacob has also gained extensive experience with complex chronic pain, nerve pain and experience with complex lumbar spine, pelvic and hip conditions.
Jacob has a growing interest in treating complex spinal, SIJ and hip conditions. He is an Australian Physiotherapy Association member and tutors along side leading Specialist Physiotherapists who lecture on complex conditions involving the neck, thoracic, lumbar spine, SIJ and hips.
Fee Statement
Initial 60 minute consultation $165.
Subsequent 30 minute consultation $125.
Private health rebates available at the time fo payment via HICAPS.